You might have noticed that when you insert a software cd or a game cd the cd drive icon shows the game or software logo as icon. Ever wanted to do something like that? Well, here's a short and easy tutorial to do so:
Firstly you need a good icon. Icons (.ico format) aren't easy to find but you might find several jpeg and other image formats which you would like to use as icons. But don't worry there's an easy way to convert images into icons using the free web service ConvertIcon. Click Get Started and you will be asked to select a file. Make sure to change Files of type: to whatever you need. After that you get a preview and can click Export to move on. You can then check on which sizes to include. Once done, click Save As and you can download your .ico file.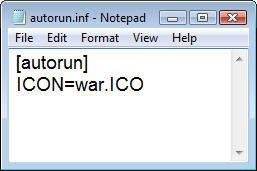 Once you have the .ico file you need to create an autorun file. To do so open notepad and type the following:
[autorun]
ICON=ICONNAMEHERE.ICO
In the above line replace 'ICONNAMEHERE' with the icon files name. Once done save the file as autorun.inf.

Thirdly, while burning a CD or a DVD you need to copy the two files- icon and the autorun.inf into the root directory of the CD/ DVD. That's it once done burn the disc. When you insert the disc into your drive and go to My Computer you'll notice your custom disc icon. Same thing applies to USB/Pendrive, you simply need to place the two files in the root. Pretty easy isn't it?